Elsa represents the Virgin Mary, and many reasons are covered in TMOF. One proof (for the faithful) is the decorations on Queen Elsa's dress.
"Upon my flowery breast, Kept wholly for himself alone, There he stayed sleeping, and I caressed him, And the fanning of the cedars made a breeze." St. John of the Cross, Dark Knight of the Soul
Decorations on Elsa's dress show a flowery breast.
Three red petals sprout from a red seed.
The three petals represent the Holy Trinity.
The red seed represents Christ in her womb.
The color red represents the blood of Christ in which the Son of God became man and then The Sacrifice.
The red elements on Elsa's flowery breast are solely for Father, Son, and Holy Spirit. All glory belongs to God, and no sinner can be The Sacrifice.
The sprouting of the Holy Trinity from the seed represents eternal life for those who have faith in Christ, The Sacrifice.
Outside of the seed and petals there are twelve other points.
Summarizing these twelve points we see four palm leaves, two lily leaves, and six blue dots.
These twelve points represent the twelve tribes of Israel and the twelve apostles of Christ.
The lily petals represent the promise of prosperity by Christ.
The palm leaves represent Christ's triumphant entry into Jerusalem, and victory over death. It is a victory of the heavenly kingdom of God over the worldly kingdom of Jerusalem.
Regarding the six dots, the color blue represents heaven as it is the color of the sky.
The dot represents an apostle, or any child of God.
The blue dots as a whole represent the heavenly secrets Christ shared with the apostles (and all children of God), as Christ only spoke in parables to the general public.
Elsa's flowery breast also appears on her back. Since it is both on her front and her back, Elsa's breast is pierced with lilies. The piercing of Elsa's breast represents the piercing of the virgin Mary's soul. The prophet Simeon said to Mary, "(Yea, a sword shall pierce through thy own soul also,) that the thoughts of many hearts may be revealed." Luke 2:35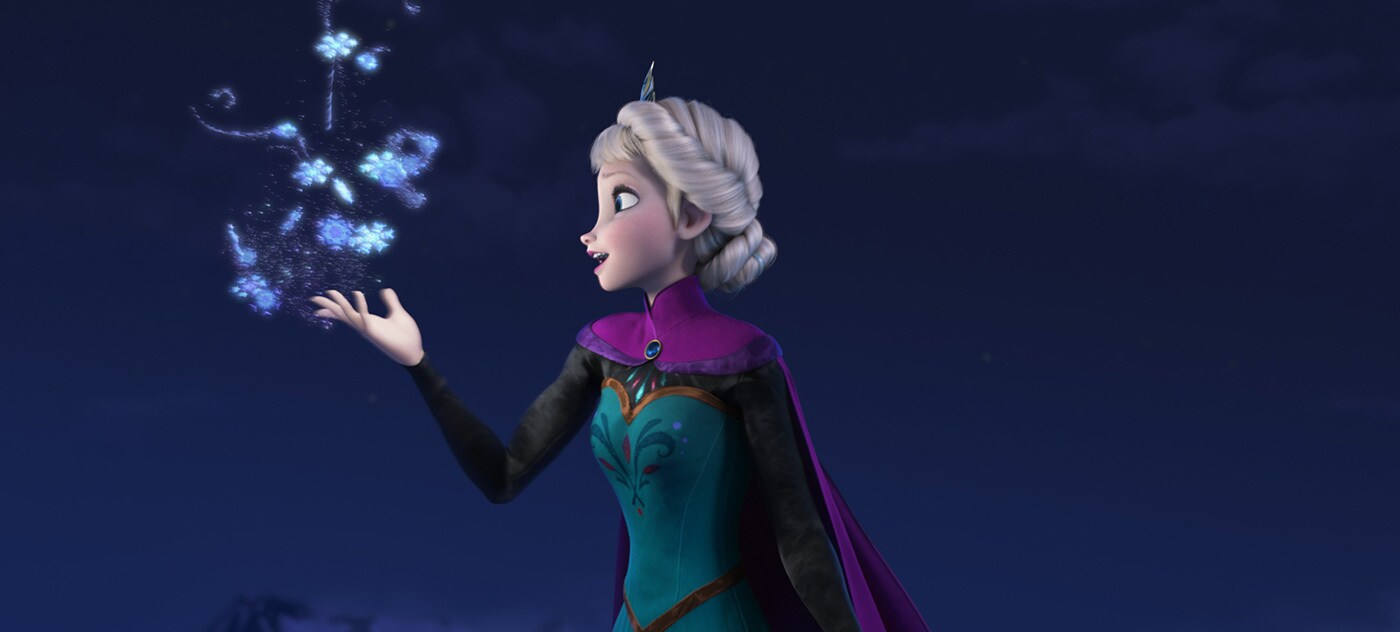 Image is ©Disney, source http://frozen.disney.com/gallery